Composer: E. Elgar Op.36
Duration: a. 3'30 minutes
Price: £15
Grade: 5-8
Instrumentation: Brass Dectet
Edward Elgar's "Nimrod" stands as one of the most iconic and emotionally charged movements from his larger orchestral work, the "Enigma Variations." Composed in 1898-1899, the "Enigma Variations" is a set of musical portraits that Elgar created to capture the personalities and characteristics of his close friends. The ninth variation, affectionately titled "Nimrod," is a profound and deeply moving tribute to Elgar's dear friend, Augustus Jaeger, who was not only a confidant but also an influential supporter of the composer during his formative years.
"Nimrod" exudes a sense of noble solemnity and introspection, opening with a memorable, noble melody presented in the strings and later carried by the entire orchestra. The piece begins quietly, gradually building in intensity and emotional resonance as it progresses. Elgar's rich harmonic language contributes to the work's sense of depth and gravitas. The name "Nimrod" is a reference to the biblical figure, often associated with a mighty hunter. However, in this context, the music seems to reflect more the qualities of inner strength, friendship, and the enduring bond between composer and friend. This brass arrangement, written for Kensington Brass in 2023, certainly adds weight and core to the beautiful romantic harmonies.
An audience favourite and an icon of English music, this is an excellent piece that no brass group should be without.

This arrangement is also available for Brass Quintet
Sample PDFs: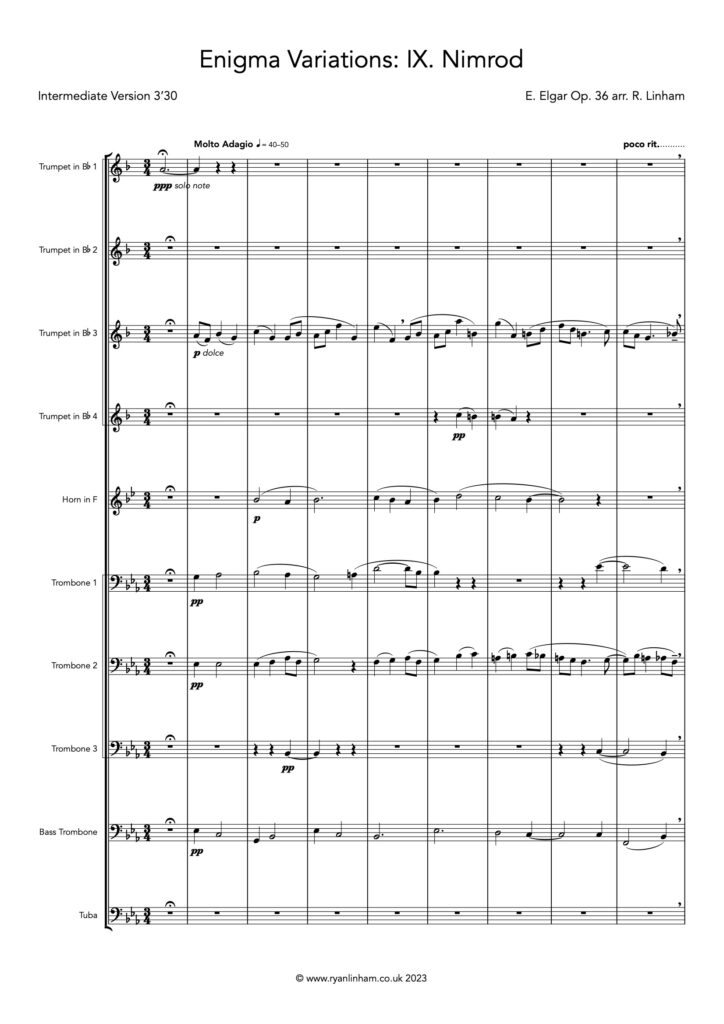 Kensington Brass Video Clip, Shropshire 2023: